Venue and Lodging
Venue Information and Lodging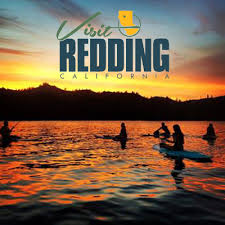 We've listened to member requests to meet in Northern California where many of our colleagues live and work. It's easier to get around, life is a little bit less hectic, and travel prices are at their lowest. We are excited to meet in Redding for 2020 at two adjacent hotels on Hilltop Drive — The Holiday Inn and the Red Lion Hotel which lie 450 feet away from each other. Redding is 3 hours north of San Francisco and 2 hours north of Sacramento in the heart of northern California on Interstate 5 which runs right through town.
Redding is centrally located in the beautiful Shasta-Cascade region at the top of the Sacramento Valley in far northern California. Surrounded on three sides by millions of acres of federal and state lands, Redding is a short drive to some of California's most beautiful natural attractions, including the Whiskeytown National Recreation Area, Lassen Volcanic National Park, McArthur-Burney Falls Memorial State Park, spectacular Mt. Shasta, and the pristine Trinity Alps. The region boasts miles of backcountry roads and scenic highways and byways, including one of only two All American Roads in California, the Volcanic Legacy Scenic Byway. Redding is home to the Sundial Bridge–the world's only glass-decked pedestrian bridge that is a working sundial–and world-class Turtle Bay Exploration Park. (Source https://www.visitredding.com/community-profile)
Redding 2020 is a little different:
The Red Lion Hotel hosts the program: Keynote, Plenary, Concurrent Sessions, Breakfast Roundtables, and Awards Banquet.
The Holiday Inn is our social hub: Welcome Reception, Exhibit Hall with Vendor Tables, Posters, Silent Auction and Raffle, Poster Reception, and informal networking options.
Our Meeting Registration Desk will be at the Holiday Inn, with registration volunteers at the Red Lion to answer questions and help with logistics.
The Sacramento River is a short walk (or drive), and as a bonus we'll offer free lunch field trips so you may take a break and visit a wild place (maybe see some wildlife!) over lunch.
Student Quiz Bowl in Redding! Our last Student Quiz bowl was at our 2008 Annual Meeting which was also held in Redding, CA. It was very successful! More information coming soon.
What else has changed? We will operate two Concurrent Sessions throughout the week (vs. the more typical 3 or 4 concurrents). We've added Tuesday and Friday afternoon concurrent sessions to maximize the number of quality presentations. Regional topics are scheduled for Friday afternoon, serving attendees who live locally and may have shorter travel times home.
What hasn't changed? Quality and camaraderie! This is the place to be for scientific information exchange with colleagues. We received a record number of high-quality, exceptional papers!
---
Online Reservations for Hotel Rooms in Redding:
We have pre-purchased a limited block of non-smoking hotel rooms at a low nightly rate for TWS-WS members at both the Holiday Inn and the Red Lion Inn hotels.
Our room block rate is available until January 19, 2020 or until the rooms in our block are sold out, whichever comes first.
Holiday Inn $99: Link to group rate – Online Booking. To book over the phone, call (530)221-7500 and use the code "WLS." The Holiday Inn does not charge a deposit fee and you may pay when you arrive, and book now without a credit card. You may choose the exact dates you want to reserve – click on the black bar to bring up the date menu.
Red Lion Hotel $94: Link to group rate – Online Booking. To book over the phone, call (530)221-8700 or 1-800-RED-LION and use the code "The Wildlife Society Western Section 2020 Group Rate."
TWS-WS meeting attendees who book as part of our room block will receive the following complimentary amenities:
Wi-Fi (high speed internet)
Refrigerator and Microwave in room
Overnight Parking
Fitness Center
Business Center
SHARED HOTEL ROOMS: We encourage TWS-WS meeting attendees to share their hotel room with friends and colleagues. Whova app coming soon with online room share bulletin board!
---