Pre-Conference Workshops
2020 Pre- and Post- Conference Workshops, Symposia and Trainings
Our Western Section Professional Development Committee has worked hard to develop a solid lineup of thought-provoking pre-conference events to be held just prior to our 2020 Annual Meeting. Email our PDC Chair, Janine Payne, if you have any questions about these events. pdc@tws-west.org
---
How to Effectively Engage with Policymakers – Lessons Learned at the Federal and State Level
Requires separate registration fee. Rates start at $20.

Co-Chairs: Caroline Murphy, TWS Government Relations Manager. Jen

Newmark,

Nevada Department of Wildlife
Please join state and federal conservation experts for presentation and discussion on effective mechanisms for engaging policymakers on issues of importance to the wildlife profession.
The session will focus on how a professional working within an organizational framework or through independent means can interact with policymakers in support of the needs of wildlife professional. State and nationally based efforts surrounding passage of the Recovering America's Wildlife Act will be used as a case study to explore processes for engagement."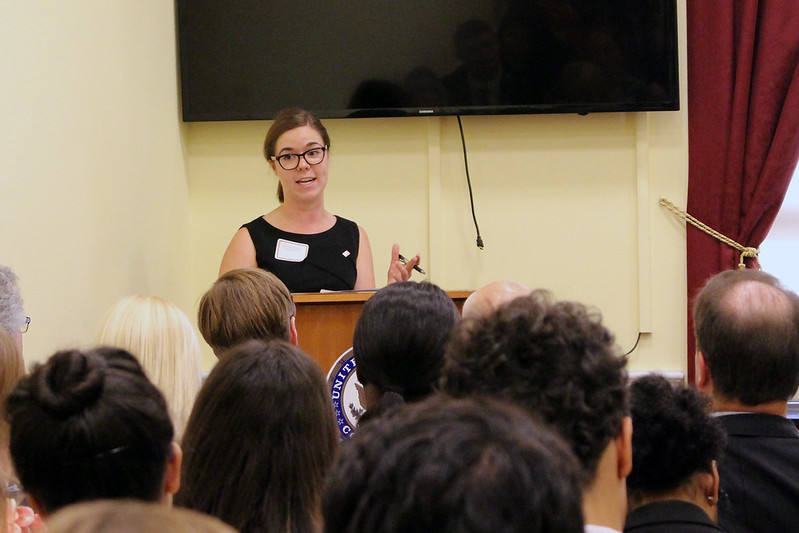 Caroline Murphy, government relations manager at The Wildlife Society, has been working with The Wildlife Society since 2015. In addition to her more than four years of work in the Society's government affairs department, Murphy also previously managed the day to day operations of TWS' certification program. Murphy holds a B.S. in wildlife ecology from the University of Delaware and is an Associate Wildlife Biologist®.
Jennifer Newmark, Wildlife Diversity Division Administrator, has been working with the Department of Wildlife since 2015. Prior to this, Jennifer was the Division Administrator for the Nevada Division of Natural Heritage. Collectively she has over 20 years working in wildlife management, in both the field setting and within the administrative and policy side. She graduated with a Bachelor of Science from the University of Nevada Reno and has a Master of Arts from Boston University.
---
R Bootcamp
Monday, February 3, 2019: 8:30am – 5:30pm

Requires separate registration fee. Rates start at $80.

Chair: Mitchell Gritts, Nevada Department of Wildlife
Instructor: Kevin Shoemaker, Ph.D., University of Nevada, Reno

The main goal of this workshop will be to ensure participants have enough proficiency and confidence with data operations and programming in R to engage in productive, self-directed learning and problem-solving. The workshop is primarily intended for participants with little prior experience with R, but may be useful for others as a refresher – especially the second half of the workshop, which will delve into more advanced topics. The first half will focus on R syntax, data management (loading data, writing to file), data summaries and visualizations, R packages (loading, getting help), and basic statistical operations. The second half will focus on some more advanced programming operations (loops, functions, debugging etc.), vectorized operations (e.g., "apply()" operations), working with large data-sets.

The workshop consists of a series of short modules, each of which covers a particular skill (e.g., reading in data, writing functions). Modules will include a quick introduction, a demonstration in R, and some short challenges for you to work through on your own (or with your neighbors!). All code will be available as scripts that you can download from this website (at the top of each module page on this website) and load up in RStudio. That way you won't need to constantly copy and paste from the web! More to come…
---
Wilderness First Aid with Foster Calm – 16 hours
Bobbie Foster is retiring! This is the last class at a TWS-WS meeting!

Monday and Tuesday,

February 3-4, 2020 – 8am-5pm

Requires separate registration fee. Rates start at $140.

Instructor: Bobbie Foster, Foster Calm
In addition to a half-day of outdoor scenario practice of first aid and leadership skills, this class focuses on practicing skills and covering: patient assessment, shock and bleeding, head and spinal injuries, wounds, musculoskeletal injuries, heat and cold illnesses, and much more. Gain some good tools and knowledge to handle a wilderness first aid emergency. Successful completion of class includes a Wilderness First Aid certificate.
Classes are fun with lots of hands-on skills practice. The emphasis is on making good decisions by staying calm and safe, doing a good patient assessment, and having good communication and leadership. Join our classes, where it is safe to learn and OK to make mistakes.
---
Wildlife Biologist Construction Awareness Training (WildC.A.T.)
Tuesday, February 4, 2020: 8:00am-12:00pm

Requires separate registration fee. Rates start at $70.

Moderator: Natalie Greer, AECOM
Wildlife biologists are often called on to provide technical expertise and implement protective measures on construction sites, but they rarely receive practical training in environmental permits or safety as they enter the workforce. This half-day workshop provides an introduction to construction monitoring for recent graduates, early career professionals, and regular construction monitors, and will be taught by experienced wildlife biologists, construction personnel, and health and safety officers. Learn about the environmental permits that require construction monitoring, what to expect on construction job sites, situational awareness and health and safety basics, common environmental protection issues and Best Management Practices, effective communication techniques with construction crews, and useful tools of the trade. Upon completion of the workshop, attendees will receive a certificate of completion and helmet sticker that shows prospective employers and construction personnel in the field that they have attended WildC.A.T. training.
Here's what last year's workshop participants said:
"I really enjoyed the open and welcome interaction between the speakers and audience. The input from both sides is very helpful for one who is very new to the field of construction bio-monitoring."
"I've been monitoring construction projects for years and some things were presented that I never thought about!"
"Excellent overview – with many helpful details – on the trade. This was a great introduction that covered all aspects well."
Moderator Bio: Natalie Greer is a wildlife biologist in Oakland, CA. She currently works for AECOM and her past jobs include positions with the National Park Service, amphibian research labs, nonprofits and with the conservation department at the San Francisco Zoo. Natalie can't pick her favorite animal because she likes to study them all. While not nerding out on wildlife, Natalie likes hiking with her dog Lucas, taking day trips and spending time with her friends and family.
---