Evening Events – Welcome Reception, Member's Banquet, Poster Reception
Welcome Reception
Featuring – Wildlife Photo Slideshow, Wildlife T-Shirt Contest and Student-Professional Mixer Game
Tuesday, February 4: 6:00 – 10:00pm

Included in meeting registration at no extra cost

Wear a Wildlife T-Shirt!

Prizes awarded for the best shirts in several categories: Best Howling Wolf, Best TWS-WS Shirt, Funniest, Best in Science/Nature.
Join us on Tuesday evening to kick off the Annual Meeting and make connections with friends & colleagues. Feast on a fiesta buffet which will be served with delicious toppings along with a no-host bar. Tuesday evening will also once again launch our annual wildlife photo slideshow. Check out the photographic talents of our Western Section members , and celebrate the opening night of our 67th Annual Meeting. Relax, you have arrived in Redding! We have a great week ahead of us.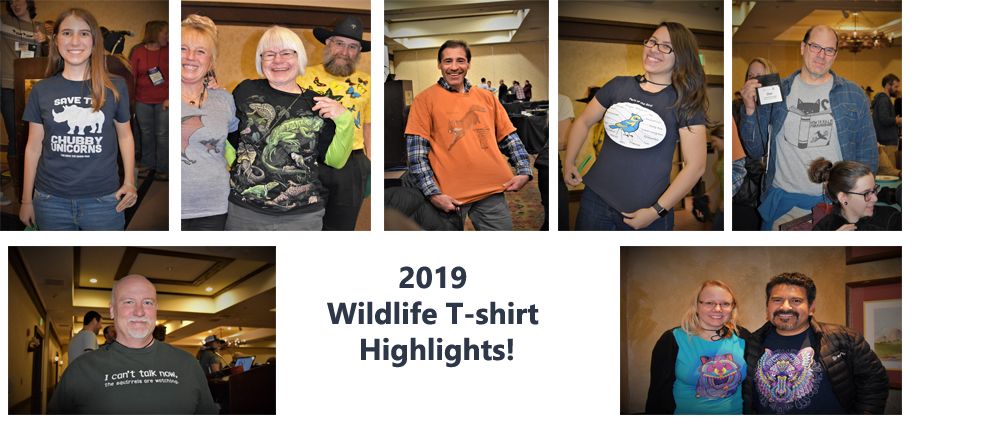 Welcome Reception Menu: Fiesta Buffet! Cotija cheese and tortilla salad; Chicken (and veggie) fajitas with flour or corn tortillas; Cheese enchiladas; Refried beans; Spanish rice; Salsa; Sour cream; Shredded cheese. Along with No-Host Bar.
Submit your photos and enter to win a $200 REI Gift Card!
A slideshow will be displayed at the Welcome Reception. The content is up to you! Send in your photos of wildlife, coworkers, TWS workshops, study animals, unexpected situations, beautiful locations, etc. Help us celebrate wildlife and the wildlife profession! Please send photos in jpg format to evelarrucea@gmail.com by January 26th. Each person who submits a photo(s) for the Tuesday night wildlife gallery will be entered in a drawing for a $200 REI Gift Card! The drawing will be held on Tuesday evening at the Welcome Reception. Need not be present to win.
---
Members Banquet and Section Awards


Enjoy a relaxing evening reconnecting with your colleagues and friends while making new acquaintances over a good meal at the annual meeting members banquet. During the banquet, we will celebrate and recognize individuals, groups, and chapters for their achievements and accomplishments with our Western Section Awards. If you haven't previously attended a Western Section banquet, now's the perfect time to start a new tradition.
Wednesday, February 5

Extra Fee Required, $35
Banquet Schedule:

5-7pm – No-Host Cocktail Bar
7pm – Doors Open for seating, Salads Served
7:45pm – Banquet Presentation (All meeting attendees welcome to join us at 7:45pm for the Program. Extra seats will be available.)
8pm – Awards and Recognitions
Awards Banquet Menu :
Choice of:
New York Steak – 8 oz. hand-cut, corn fed Northwest New York Steak broiled and topped with wild mushroom demi-glace

Simply Seared King Salmon – 7 oz. Alaskan King Salmon served simply seared with citrus butter glaze.

Polenta and Vegetables – Broiled garden vegetables on creamy soft polenta and sweet pepper coulis.
All entrees served with a green salad, fresh rolls and country butter, seasonal vegetables, chef's selection of rice or potato and dessert. Includes freshly brewed coffee, decaf, iced or hot Tazo teas. (Note all steaks will be cooked medium well.)
---
Raffle and Silent Auction

All 2020 ticket sales and silent auction purchases will be donated to benefit Western Section programs for wildlife students and early career professionals. Raffle tickets will be sold starting at the Tuesday night Welcome Reception and up through the Banquet on Wednesday evening. This banquet raffle is a lot of fun, and there will be some amazing prizes, including some new super surprises!
The silent auction will open on Tuesday evening and will close at 6:15pm on Thursday, just before the poster session doors open. Items must be purchased and picked up by 11am on Friday.
We encourage everyone to purchase raffle tickets, which are available at the Registration Desk or from Western Section Executive Board members and volunteers. Raffle and silent auction items will be displayed in the Exhibit Hall in the Exhibit Hall Marketplace throughout the meeting. Please contact Raffle and Silent Auction Chair Susanne Marczak if you have any questions or would like to donate an item to the raffle and/or auction. communication@tws-west.org
This Year, Donate You
Every year, we reach out to supportive individuals and organizations like you in search of auction/raffle donors to support our annual meeting. In the past, generous donations to the Western Section raffle and auction have allowed us to help support the educational and professional development of the next generation of wildlife biologists and managers. This year we are excited to announce that we are expanding the scope of our auction to include member-donated experiences and items for our silent auction.
If you are an illustrator, a painter, a knitter, an author, an outdoorswoman, or simply a Western Section member with something unique to offer your fellow wildlifers, we are reaching out to*you* to see if you would be interested in donating an experience or item. Maybe you are an avid birder who can share the art of birding by ear, or an outdoorsman who can lead a guided hunt. Perhaps you can offer a weekend getaway in your family's summer cabin or a chartered flight to an out-of-the-way fly-fishing destination. Paintings, signed books, a wildlife-themed knitted beanie, and a locally-gathered and home-cooked meal are examples of "hand-made" items that members would love to have. Goods crafted by hand with love and experiences to share with fellow wildlifers not only can help support the Western Section, but also can help forge new friendships between members along the way.
If you are interested in donating an experience or item for this year's silent auction, please contact President-Elect Matthew Bettelheim (presidentelect@tws-west.org) by November 30th, 2019.
---
Poster Session and Reception

Thursday, 6:30-8:30pm, February 6

Session Chairs: Carlos Alvarado and Allison Fuller

Poster Session and Reception included with conference registration fee!
A poster session and reception will be held on the evening of Thursday, February 6th. Authors will be available to answer questions about their posters. Hors d'oeuvres will be served and several (well-stocked) no-host bars will be provided. Posters will also be available for viewing Wednesday afternoon, and all day Thursday (in the Exhibit Hall at the Holiday Inn). For more information on poster presenter guidelines, click here.