About our Meeting Logo & Website Photo Header
Behind the Logo:
Our meeting logo is created through the artistic talents of Maria Pascoal, a Senior Designer and Communications Professional with GEI Consultants. I have admired Maria's creative designs for years – inside and outside of work. Maria graciously accepted my invitation to create this year's logo, and took the blueprint of my vision and ran with it. This logo – with a prominent backdrop of a State or National Capitol building where wildlife approach upon the steps – suggests the interface of science and policy, where the fate of many of our earth's beloved wildlife and their habitats are determined through the development and implementation of policies that shapes environmental priorities, direction, and funding.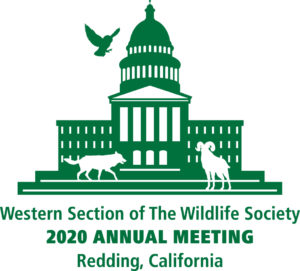 Behind the Website Photo Header:
Photo Credit:
Thank you to Ivan Parr for sharing his wonderful photos that highlight the interesting species of the Redding area. Ivan is the Western Section's Workshop Coordinator. He loves the idea of promoting education and experience when it comes to understanding wildlife and their habitats. A botanist as well as a wildlife biologist, he spends his (albeit limited) free time searching the Golden state for unique treasures of biodiversity. He is currently trying to compile a photographic index of California's endemic species.
Ivan will be teaching a photography workshop at the 2020 Annual Meeting in Redding – be sure to check it out!